KINGDOM: Scripture's Story of God's Glory in Christ
Scripture is about a God who reigns, saves, and satisfies through covenant for his glory in Christ. In this seminar Dr. DeRouchie overviews "Scripture's story of God's glory in Christ," tracing the progressive unfolding of God's kingdom program from Genesis to Revelation, from creation to consummation. Broken into seven easy-to-remember stages that are clarified by simple, cross-cultural images, he unpacks the breathtaking purposes of God that find foundation in the Old Testament and that are fulfilled in Christ and the New Testament.
Each of the 10 sessions is roughly 30 minutes in length, making it very usable for small groups or Sunday school classes. Be sure to download the handout, and you may even want to have handy the first chapter of DeRouchie's What the Old Testament Authors Really Cared About: A Survey of Jesus' Bible (Kregel, 2013), downloadable here. Enjoy the journey, for the Bible's display of God's plan to glorify his Son through the salvation of the world is absolutely awe-inspiring!
Kickoff and Rebellion (Creation, fall, flood)
Instrument of Blessing (Patriarchs)
Nation Redeemed and Commissioned (Exodus, Sinai, wilderness)
Government in the Land (Conquest and kingdoms)
Dispersion and Return (Exile and initial restoration)
Overlap of the Ages (Christ's work and the church age)
Mission Accomplished (Christ's work and kingdom consummation)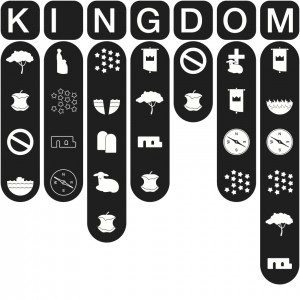 Handout (Jason S. DeRouchie Ⓒ 2015)
Audio Messages  (Video Potentially to Follow) (Jason S. DeRouchie Ⓒ 2015)
1. For the Sake of His Name: A Mission to Magnify the Majesty of Christ (A Sermon on Rom 1:1–6)-DeRouchie (PDF)
2. Intro-God's Kingdom Plan in Scripture
3. Kickoff and Rebellion (Creation, fall, flood)
4. Instrument of Blessing (Patriarchs)
5a. Nation Redeemed and Commissioned, Part 1 (Exodus, Sinai, wilderness)
5b. Nation Redeemed and Commissioned, Part 2 (Exodus, Sinai, wilderness)
6. Government in the Land (Conquest and kingdoms)
7. Dispersion and Return (Exile and initial restoration)
8. Overlap of the Ages (Christ's work and the church age)
9. Mission Accomplished (Christ's return and kingdom consummation)
Related Posts: